Real Estate Attorney Sacramento, CA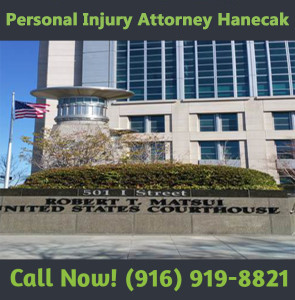 Real estate is considered as one of the biggest investments that a lot of people and businesses make, but it entails a complex process brought about by possible complications. Personal Injury Attorney Hanecak's real estate attorney who has a profound understanding of the California real estate laws is always enthusiastic to assist you attain your aims at buying, leasing or selling real estate properties successfully.
Our real estate attorney has gained an outstanding status with brokers, real estate agents, title companies, and other professionals in the industry for effective real estate transactions. For extensive years of legal experience, we have created a loyal client base and solid referral network from people who have trusted us with all features of their real estate cases and residential and commercial transactions.
The moment our real estate attorney represents you in any real estate matter, you will gain personal, keen attention and the advantage of a law firm that has substantial legal experience in the field of real estate. Moreover, our real estate attorney is a licensed real estate broker with the California Bureau of Real Estate who specialized in major civil litigation and real estate issues.
So, set an appointment with our real estate attorney, and we will talk about your situation, discuss how the law can impact you and offer you advice and direction in an effective and beneficial manner.
Residential Real Estate
Personal Injury Attorney Hanecak can handle a wide range of residential real estate cases for sellers and buyers alike, combining legal complexity with client-centered emphasis.
Our knowledgeable real estate attorney can deal with difficult problems that may be present during the sale and purchase of real estate property. We can offer comprehensive legal counsel on first-time home buyers to experienced investors.
Commercial Real Estate
Our real estate attorney can work with clients with any real estate transactions, which includes commercial transactions and helping developers of big urban mixed-use developments.
We have been part of a huge real estate development in the Sacramento area. Our involvement with our clients in this real estate development includes:
Tax structuring
Acquisition of properties
Density transfers
Environmental matters
Servicing agreements
Rezoning
Subdivision
Financing
Leasing
Real Estate Leasing
Personal Injury Attorney Hanecak law firm has an active commercial leasing practice and offers legal services to landlords and tenants in office, retail, and industrial facilities. Our real estate attorney can act on your behalf in the preparation, negotiation and structure of different types of commercial leases that include office, retail, and industrial space. We have the experience in acting for major tenants with respect to the location of the head office. We are also capable of negotiating and structuring ground leases and other distinctive leases such as sale and leaseback transactions and lease and leaseback transactions.
Real Estate Litigation
Experienced Representation during Real Estate Disputes
Problems over real estate can transpire no matter how careful you are during the contract drafting, inspection, and negotiations. If you require representation for a real estate dispute that involves residential or commercial property, you can always count on our Sacramento real estate attorney at Personal Injury Attorney Hanecak for proficient and experienced guidance.
For the past years, Personal Injury Attorney Hanecak has been serving developers, sellers, buyers, and other professionals in real estate litigations in Sacramento, California. We have assisted clients in effectively resolving different legal disputes that arise from real estate. We offer experienced representation for arising disputes in the course of sale and purchase of residential and commercial property, which includes issues like:
Title
Liens
Escrow
Financing and lenders
Aside from arising disputes in the sale and purchase of real estate, we have also helped clients in resolving other types of real estate disputes. Our real estate attorney offers legal representation for disputes that involves:
Commercial leases
Other landlord-tenant disputes and tenant evictions
Construction defects
Foreclosures
Many other disputes
Working with our real estate attorney means you will get the advantage of working with a lawyer that has varied experience and deep understanding of real estate laws and transactions in California. We know everything about real estate markets in Sacramento, the intricate laws that rule over real estate transactions and how to successfully litigate claims. Contact us now!