Personal Injury Attorney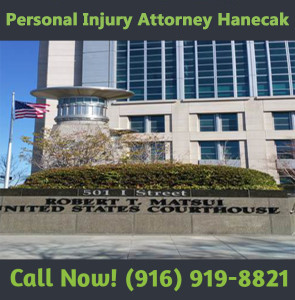 Personal Injury Attorney Hanecak provides superior legal representation for a wide range of personal injuries and wrongful death. Our personal injury attorney provides experienced, cost-effective counsel and advocacy in a spectrum of practice areas, including:
Car Accidents
Personal Injury Attorney Hanecak's personal injury attorney is adept to handle various car accident cases in Sacramento, California. In fact, she has helped tons of car accident victims over the Sacramento area to attain fair financial compensation. So, if you or anyone of your loved ones has been a victim of a car accident due to the negligence of another party, it's imperative that you seek legal assistance immediately – before you sign any documents and discuss your predicament with an insurance adjuster. Let our personal injury attorney give you crucial pieces of advice on your legal rights.
Bicycle and Motorcycle Accidents
A bicyclist hit by a car will most likely experience severe injuries such as spinal cord injury, traumatic brain injury, or a closed head injury that may lead to debilitating chronic pain or worst, paralysis. Even an injury to the ankle, arm, or shoulder can also lead to permanent disability and may require extensive medical attention and costly future care expenses. And, if you have injuries because of a defective helmet or other equipment, you may get compensation from equipment manufacturer by means of personal injury lawsuit under the product liability law. If you or any of your loved ones acquired injuries due to the carelessness of another driver, then our personal injury attorney can aid you with your legal rights.
Drunk Driving Accidents
Alcohol has long been involved in countless grave car-related injuries. If you or any of your loved ones suffered from a car accident due to a drunk driver, you may deal with several difficult things such as severe injuries, permanent disability, loss of income, or even loss of a loved one. It's possible that there are many parties liable for your pain and suffering, expenses, and now by law, probably punitive damages. Personal Injury Attorney Hanecak has experienced Sacramento personal injury attorney that can guide and help you on your legal rights and obtain the right compensation that's owed to you because of a car injury by an impaired driver.
Slip and Fall Injuries
Occupier liability cases refer to accidents that transpired due to careless maintenance or unsafe conditions of a property. Property and business establishments owner are responsible for maintaining a safe environment for people invited onto their premises. Common conditions that result to occupier liability accidents include wet and slippery floors without warning signs, uneven floors, poorly marked changes in elevation, broken steps and sidewalks, and many more. These injuries sometimes transpire at residential properties, condominiums, restaurants, shopping malls, airports, race tracks, dance floor, or any property that obliges an occupier to offer reasonable safety for its visitors. Personal Injury Attorney Hanecak's personal injury attorney has handled slip and fall cases for many years. The majority of these cases include victims who were extremely injured, were paralyzed or even killed due to the negligence of an establishment in protecting its visitors from dangerous conditions. If you or any of your loved one has been injured due to the dangerous condition of a residential or commercial property, Hanecak, our personal injury attorney is willing to explain your legal rights without charge or obligation.
Medical Malpractice
A medical malpractice lawsuit is filed if the health care provider or doctor failed to implement the standard medical "standard of care". Although medical malpractice that resulted in a fatal or permanent injury is unusual as compared to the times that health care providers "get it right" every day – it does occur. Adversely, insurance companies have made it hard for individuals who have been severely harmed by the error of a surgeon or the mistake of a doctor to get what is right. In cases like this, a personal injury attorney can be of great help.
Wrongful Death
If your parent, spouse or child was killed due to the negligence of another person or establishment, you are entitled to claim compensation under the Family Law Act for wrongful death. A situation like this, compensation for the deceased for the pain and suffering are given. These financial damages are intended to compensate the person for the mental and physical pain and loss of life due the unlawful actions of the offender. If one of your loved ones was lost due to the carelessness of a person or establishment, our skilled personal injury attorney is here to aid you with your rights. It is essential that you and your loved ones are protected financially.
Our Personal Injury Attorney Can Help
So, if you are in dire need of a reliable, determined, experienced personal injury attorney who can represent you legally, you've come to the right place! The moment Personal Injury Attorney Hanecak law firm represent you in any personal injury case, you will receive personal, keen attention and the advantage of a law firm that has deep understanding and substantial legal experience in the field of personal injury. To set an appointment with personal injury attorney, contact us now!