Business Law Attorney Sacramento, CA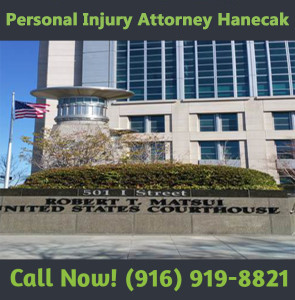 Qualified Business Law Attorney Dedicated to Business Success
Personal Injury Attorney Hanecak's competent Sacramento business law attorney can help in defending every business' well-being in Sacramento, California through different stages of the legal process and during the trial and appellate levels. We shape the process and representation of the client's expected results, which entails a refined understanding of the problems and appreciation of the industry where the business works.
Our business law attorney takes pride from his many years of experience in aiding businesses resolve any problems that hamper their business transactions.
Diverse Legal Experience Promoting Diverse Business Interests
Personal Injury Attorney Hanecak has a top-notch business law attorney that can handle an array of complicated business litigation, including:
Contract and warranty disputes — disputes about contracts, may it pertain to the provisions of the contract, the ability of a party to go up with its terms, or the implied warranties therein, can upset business relationships, slow or stop production, and disturbs your bottom line. Our business law attorney can provide experienced legal counsel and develop a legal solution for your business interests and the risks of contract or warranty dispute.
Antitrust, unfair competition and trade regulation violations — our business law attorney, has handled a lot of businesses, offering representation against supposed antitrust, unfair trade and competition regulation violations. We aid your business to operate within the confines of these laws, and advantages from them.
Business torts — to be fruitful and make significant contributions to customers, sometimes businesses have to take premeditated risks. Sometimes, in doing so opens the possibility of litigation, both inside and outside the organization. Our business law attorney has great experience protecting businesses against tort claims, which includes internal openings of fiduciary duty and outside interference with contractual dealings, alleged violations of anti-competitive practices and theft of trade secrets.
Franchise litigation — businesses implement a franchise model for a number of reasons; however, first and the main reason is to expand the brand and influence of the company. Our business law attorney can help you in upholding the terms of agreements and negotiating franchise agreements.
Insurance coverage — basing from its nature, the business operation has its risks, and although these risks are assessed through comprehensive cost-benefit analyzes, not all problems can be evaded. Insurance coverage for businesses may vary, and aside from representing insured businesses whenever liability problems arise, our business law attorney also helps clients with creating coverage choices. Our business law attorney discusses and coordinates with in-house counsel and counsel for insurance companies to create a planned defense for you.
Partnership, shareholder, and family-owned business disputes — same with personal relationships, professional relationships can go south for some reasons, and disputes among shareholders and partners can endanger the existence of a business. Whenever a business relationship is also a personal relationship, as those with businesses that are owned by families, disputes can sometimes become complicated. The success of your business is our business law attorney's priority along with helping smooth transitions that comes from disputes with the partnership, shareholder, and family-owned businesses.
In any area, our business law attorney aims at offering creative solutions to various legal problems your business is facing; however, if the best action is to go to court, we have experienced litigator who is always prepared. And, our business law attorney has the experience and knowledge, in case your case needs to go to higher court.
For more information regarding these legal matters, feel free to call Personal Injury Attorney Hanecak for a free consultation. Our business law attorney would be more than glad to enlighten your confusions and deliberate your case and legal options.