Bankruptcy Attorney Sacramento, CA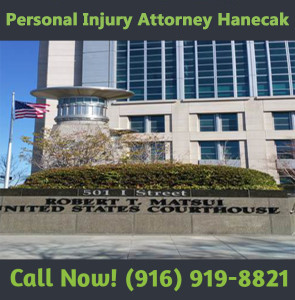 Whether you need a bankruptcy attorney, a medical malpractice attorney, a personal injury lawyer, or a legal representative for domestic matters Personal Injury Attorney Hanecak is your go to full service law firm. With over 20 years of combined legal experience each of the lawyers at Personal Injury Attorney Hanecak can handle nearly any legal need that you may have. Personal Injury Attorney Hanecak provides the members of the Sacramento community with a number of legal services. If you or a loved one has been injured as a result of another person's negligence Personal Injury Attorney Hanecak will be there to stand beside you and fight for your legal rights. We are also available for debt consolidation and bankruptcy cases. Taking control of your debt with the help of the lawyers at our full service law firm could save your home, car, or business. Personal Injury Attorney Hanecak is dedicated to serving the community members of Sacramento.
"I couldn't be happier with Dan's services," stated one of our recent clients. Listen or read more reviews from our current and previous clients. To set up a free consultation with one of our lawyers for any of your legal needs call (916) 919-8821 TODAY!
We have listed below several public safety numbers in the Sacramento area for anyone in the community who may be in need of public services in addition to any of our legal advice and or services. We have also listed a number of frequently asked questions that we receive.
Frequently Asked Questions: